If you have any question or suggestion,
please call us:

Or send email to us:
info@chinadabu.com
Your Location: Home -> Products ->

Deep Well Pump
4SKm
(4"Submersible Pumps)
Pump
Qmax: 2.4(M3/h)
Cable Length:20m.
Capacity from 0.5 to 1.5 (M3/h)
Total head from 79 to 27 (m)
Highest temperature of liquid: 40¡æ
Motor

Continuous Service.
Power: 1Hp (Single phase)
1.5Hp (Single phase)
Insulation class: B
Protection grade: IP58

Main uses
For 4" wells.
Pumping clear water to: Detached
houses-country houses and farms-Cottages.
Moving water in fountains.
Rain irrigation.
Feeding pressure systems.
Filing and emptying tanks.
Structure features
Shaft, jacket and hydraulics in stainless steel.
Brass impeller.
Built -in non -return valve.
Thermoplastic parts.
Oil-cooled motor with compensating diaphragm.
Graphite mechanical seal protected by sand proofing.
4SKm 100 parts are non-toxic and non-polluting.
Thanks to special structure features, both installation and maintenance of 4SKm 100 are fast and easy.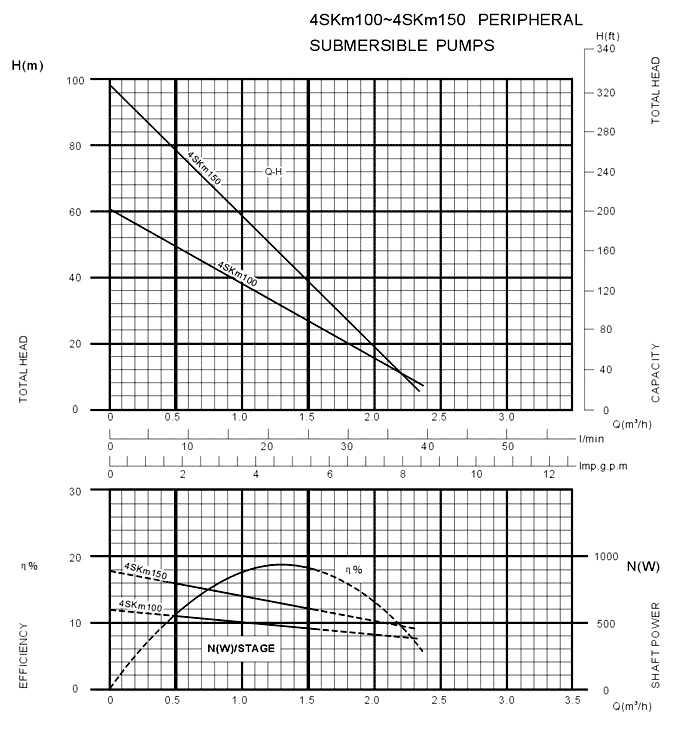 The Structure, code and name of the pump